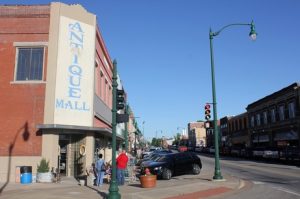 Downtown Claremore is one step closer to being placed on the National Register of Historic Places after the nomination was signed off by the state Historical Preservation Review Committee.
The committee unanimously voted to forward Claremore's nomination on to the National Parks Service, the final stop before the official designation.
Claremore Main Street officials expect to hear the final designation by early October.
"Our volunteers have spent countless hours over the last few years pouring over research on our district's history to complete the complex narrative for the nomination," said Jessica Jackson, Claremore Main Street Executive Director. "I couldn't be more excited to see downtown Claremore within reach of this goal."
"We are so thankful for our friends at the State Historic Preservation Office for their guidance and assistance throughout this process," Jackson added.
Dr. Ray Brown, Main Street Treasurer, and former Main Street Director Cindy Bissett spearheaded the project, which resulted in new information and insights about the district.
"When Cindy Bissett approached me about preparing an application for a National Historic Preservation District in Downtown Claremore, I was excited about the opportunity. This seemed to fit right in my wheelhouse," said Brown, a former vice president at Rogers State University.
"Conducting the research and preparing the application was a challenging but rewarding project. I sincerely enjoyed the project and hope to see more historical renovations downtown," he added.
As per the nomination, the historic district includes the three blocks of West Will Rogers Boulevard from Lynn Riggs Boulevard to Muskogee Avenue and from 4th Street to the alley between Patti Page and Will Rogers boulevards.
The nomination's period of significance is from 1890-1955.
Once named to the National Register of Historic Places, downtown Claremore will be protected from federal projects or mandates that may alter the district and building owners have a chance to qualify for 20 percent tax credits for restoration and rehabilitation of their buildings within the district.
"Future prosperity and economic development will depend on using our historical resources and adapting them to meet future needs," Brown said. "This encourages owners to invest in preservation and renovation of their buildings, which creates for the owners more valuable assets."
Additionally, the placement on the Register has potential to increase tourist attention, especially among history buffs.
"We took on this project to be able to offer people investing in downtown Claremore the opportunity for the major tax credits and because it is such an honor to be on the National Register of Historic Places," Jackson said.