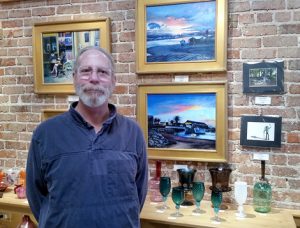 Art has always been a part of John David Wolf's life, dabbling in art as a hobby and touring galleries around the country.
After seeing some of their favorite galleries, he and his wife, Anita, decided owning a gallery was what they would do in retirement. That's where the dream of Wolf Productions A Gallery of the Arts, now at 510 W. Will Rogers Blvd., began.
One day, on their way home to Oologah Lake from their jobs in Tulsa, their lives changed.
"We used to commute every day on Route 66. One day, we just stopped … and saw that the building was for sale, and we put a bid on it and got it," John David said. "It was kind of a fluke."
Originally, they – as well as the bank — thought they were buying 510 W. Will Rogers Blvd., but it turned out to be a two-for-one deal as the lot actually included both 510 and 512 store fronts.
"It took about three years to renovate because everything we could do, we did ourselves," John David said.
The gallery now sports original tin ceilings, a skylight, exposed brick walls and a stained concrete floor.
"We could see the potential for it," he said. "I approached it as an art project."
The store opened on Feb. 14, 2007 and is celebrating its ninth year this month. The idea was to keep it local.
"Our idea was always to be focused on Oklahoma art," he said.
The art displayed is from Oklahoma artists or artists with Oklahoma ties and the majority of the art hails from the northeastern part of the state.
"It's fun to be able to represent the artists," John David said. "And then just meeting the people and hearing their reaction to the art."
John David served on the Claremore Main Street Board of Directors for six years with a one-year stint as the Board President. He and his wife moved to Claremore after opening the store and his commute went from about 45 miles to a short six-block walk.