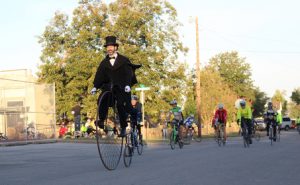 Northeast Oklahoma's favorite family-friendly bike ride is back for another year – complete with new distances along the scenic routes.
Dickens of a Ride, scheduled for Oct. 1 in Claremore, offers seven distances ranging from the Lazy Lake Loop, a seven-mile loop to Claremore Lake and back, to a 100-mile century. All distances begin at 8 a.m. REGISTER ONLINE NOW!
"Dickens of a Ride is a fun athletic yet noncompetitive event that's perfect for riders of all ages and abilities," said Jessica Jackson, Claremore Main Street Director. "It's a beautiful ride that offers scenic and quirky sights along the way."
Along with the always-popular 30-, 50-, 62- and 100-mile routes, riders can choose a shorter 18-mile path or a more aggressive 76-mile ride.
The available routes, depending on the distance chosen by the bike rider, will take you through the scenic country side west of Claremore, through Oologah, then to the Claremore Lake area.
The longer routes will continue east of Claremore through rolling hillsides then back into Claremore from the East, ending the ride back at the start, downtown Claremore's Gazebo Park, located at Muskogee Avenue and Will Rogers Boulevard.
All distances are $25 for those registering before Sept. 1. Prices increase in September to $30 up through the morning of the race.
The ride includes well-supplied rest stops and SAG and mechanical support through 5 p.m. as well as a map with instructions.
Long-sleeved T-shirts need to be purchased separately for $20. The deadline to order a shirt is Sept. 1.
Boom-a-Rang Diner will offer a $2.99 rider breakfast special before the ride on Oct. 1. Holiday Inn Express & Suites in Claremore is offering a special rate of $84 a night for riders.
The Finish Line is sponsored by RCB Bank.
"We are thankful for our local partners who help make this event so wonderful," Jackson said. "This ride simply wouldn't be possible without their support and that of Janice and Tracy Whittaker at Bike-About Bicycles, who have the vision and the drive for Dickens of a Ride."
Proceeds from the ride benefit Claremore Main Street, a nonprofit organization dedicated to the revitalization of the downtown district and reigniting the area as the social core of our community.