The windows in downtown Claremore are featuring red and white displays with Christmas trees and Santa Claus images. Wreaths have started the line the streets, and a faint 'ho, ho ho' can be heard in the distance.
Brace yourself. Christmas is coming.
Downtown Claremore starts the holiday season off every year with Dickens on the Boulevard, a Victorian-themed Christmas festival right in the heart of town. The 21st annual Dickens on the Boulevard starts at 6 p.m. Friday and Saturday night (Nov. 17-18).
"Thousands of community members come out each year to start the holiday season with us," said Jessica Jackson, Claremore Main Street director. "We love hosting this event, which is truly for the whole family – for the whole community – to enjoy together. It's certainly a labor of love."
The two-night event is jam packed with Victorian and Christmas activities and culminates each night with the Victorian stroll and street dance. Rogers County and surrounding residents of all ages join one another in the streets of downtown Claremore to dance the night away.
Dickens on the Boulevard is hosted by Claremore Main Street. RCB Bank is a major sponsor of the event while Wantland Law Firm is the saloon sponsor. Supporting sponsors are Price & Sears Law Firm, Inola Castings, Claremore Chiropractic, Three-Twenty on Main, Kevin Fortna, CPA, and Claremore Industrial and Economic Development Authority.
What's new this year?
While keeping all the traditional favorites, the Dickens on the Boulevard planning committee has been hard at work creating more of an atmosphere for guests to this year's event.
"With such a long-running event, it's important to us to continue to add new features each year," Jackson said. "From fencing to a new tour to a silent auction, we have some fresh, fun activities for 2017!"
The Victorian Fencing Society will be in Claremore both nights of the event, taking the stage for a demonstration at 7:15 p.m. Society members will be around after the performance to answer questions and show additional techniques.
There will be a silent auction on Friday night only at the Claremore Main Street office, 419 W. Will Rogers Blvd. Proceeds of the auction go to benefit the continued revitalization and beautification of downtown Claremore.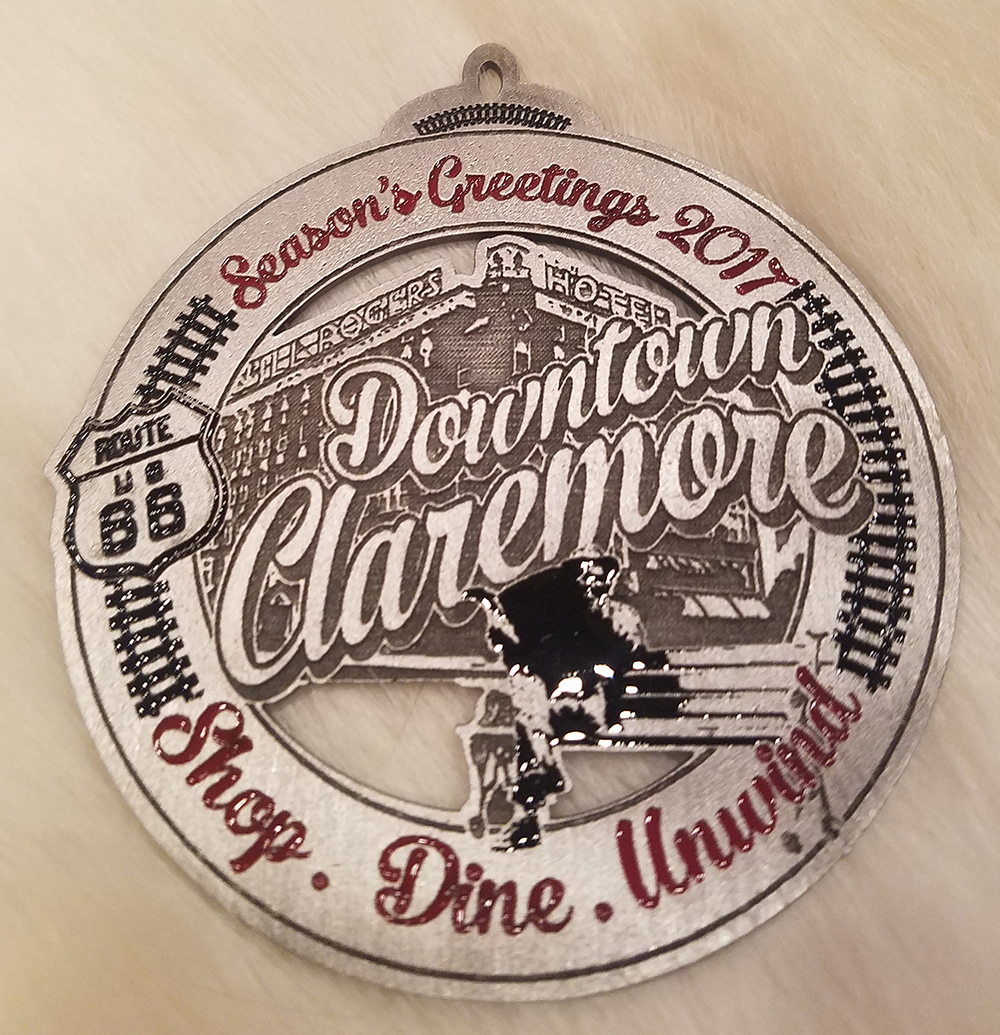 Auction items include tea set baskets, Christmas decorations, a wine basket, a Main Street basket with $50 in free shopping, a coffee basket and a Young Living Basket. The auction begins at 6 p.m. and closes out at 8 p.m.
Claremore Main Street is also selling limited edition ornaments that feature the Will Rogers Hotel, Will Rogers statue, railroad tracks and Route 66. The ornament says "Downtown Claremore" and "Season's Greetings 2017."
Ornaments are on sale now and during Dickens on the Boulevard at the Main Street office; The Grapevine, 404 W. Will Rogers Blvd.; and the Willow Tree Mall, 409 W. Will Rogers Blvd., for $10 while supplies last.
Also new this year is the Historic Walk, an afternoon tour that takes guests from the Will Rogers Hotel to the Belvidere Mansion for a one-hour, quarter-mile storytelling adventure.
The Walk is perfect for history buffs – both from Claremore and not – as the tour guide is guaranteed to tell stories about Claremore characters never before heard.
The tour begins at 2 p.m. Nov. 18 at the Will Rogers Hotel. Tickets are limited and pre-purchasing is encouraged. Tickets can be purchased at the Claremore Main Street office for $8 during regular business hours.
In addition to the Historic Walk, the Tales from the Top evening tours are back this year with brand new plays. The Tales from the Top tours include history on five of the downtown Claremore buildings, a short play and a chance to explore the upper floors of those buildings, often with only a flashlight.
The Tales from the Top tours begin each night at 6 p.m. Tickets are $12 and advance purchase is encouraged. They are available at the Claremore Main Street office.
What's Victorian themed?
Throughout the evening, guests will be greeted by actors in a "living window," street urchins and street performers all in character.
"This is Victorian-themed festival," Jackson said. "We take that seriously and really want to make our visitors feel like they've traveled back in time."
Guests are encouraged to wear Victorian-era attire to the event, which hosts a Victorian Costume Contest each year.
Contestants can check in to be judged between 5:30-7:30 p.m. at Thrift Harbor at 316 W. Will Rogers Blvd. The judges will review the entire ensemble for authenticity.
Winners will be announced each night at 8:20 p.m. at the stage in the following categories: Adult Couple, Adult Male, Adult Female, Young Male, Young Female, Male Child and Female Child.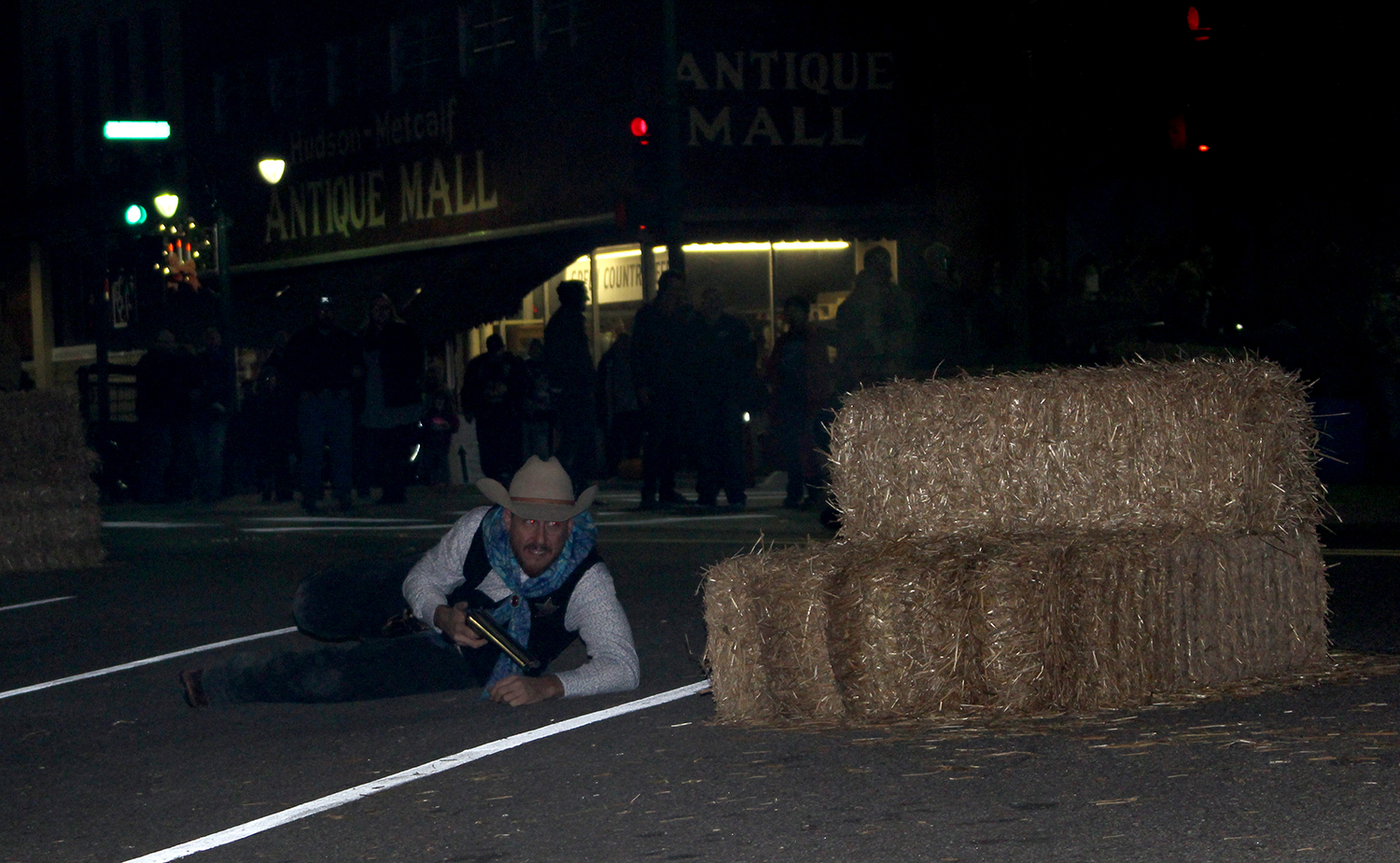 The Territorial Marshals will host territorial re-enactment in the center block of downtown at 7:45 p.m. Friday night, while the Tri-State Gunfighters will have an old west shootout at the same time Saturday.
Horse and carriage rides are available to take visitors from the downtown core to the Claremore Museum of History, the Belvidere Mansion and back to the boulevard. Rides are $5 for adults, $3 for children 6-12 and free for youngsters five and under.
To whet your whistle, the Wantland Public House – an old-west saloon – will be at 512 W. Will Rogers Blvd., serving up sarsaparilla, water, peanuts and a card game called faro. There will also be a selfie station in the saloon.
Those who come hungry can enjoy dinner from the traditional chuckwagon for campfire favorites. Additionally, the Masonic Lodge and Boy Scouts will both be selling food.
Open for business those nights downtown will be the Pink House in the Belvidere Mansion, Boomarang Diner, Dot's Café, She Brews Coffee House, Main Street Tavern and Frosted.
What's Christmas themed?
No Christmas celebration would be complete without a visit with Santa Claus himself. Santa will be available for pictures at the Cranberry Merchant, 417 W. Will Rogers Blvd. Pictures are $5 and can be downloaded about week after the event.
After visiting Santa, children should stop by Santa's Workshop inside Crystal Pistol Boutique & Mom & Pop Ceramic Shoppe, 323 W. Will Rogers Blvd., to paint their own Christmas ornament keepsake for $5.
Along down the street, guests will be transported back to Biblical times with the Living Nativity by Shepherd's Cross. The Living Nativity includes several live animals as well as Mary, Joseph and the Three Wise Men.
On the stage at 6:30 p.m. Friday night, the Choir Company will perform Christmas classics to entertain the crowds.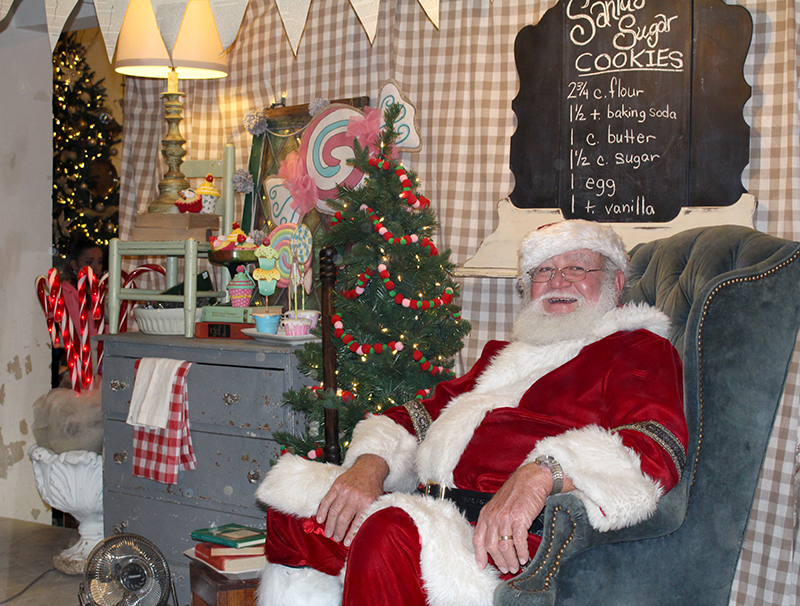 "Christmas is woven throughout this event," Jackson said. "You won't be able to leave without singing carols and feeling in the Christmas spirit."
Naturally, holiday shopping is a must at Dickens on the Boulevard. Most of the downtown stores will be open throughout the event and many participate in Dickens Dollars – a downtown shopping giveaway.
Dickens Dollars are gift certificates that can be used like cash at participating stores. For a chance to win some of the $800 in Dickens Dollars given away, guests can visit any or all of the 20 participating stores. [Dickens Dollars instructions]
Participating stores will have a sign on their door, window or at the register. One ticket per adult is available free of purchase from each of the stores. Some stores offer additional tickets for purchases.
Tickets should be dropped off at the Gold Box on the stage before 8:15 p.m. each night. Five $75 packets of Dickens Dollars will be given out for free to winners each night. The additional $50 will be part of Friday's silent auction.
In addition to the stores, several craft vendors will be set up in the 500 and the 300 block to sell items you won't be able to find anywhere else.
Four local authors will be set up in Boarding House Books, 300 W. Will Rogers Blvd., for author book signings. Authors will have their books for sale during the event. The local authors are Linda Harkey, Linda Trout, Will Kennebrew and Karen Willis.
How can I learn more?
Interested parties can also get more information on Claremore Main Street's website or by calling 918-341-5881.