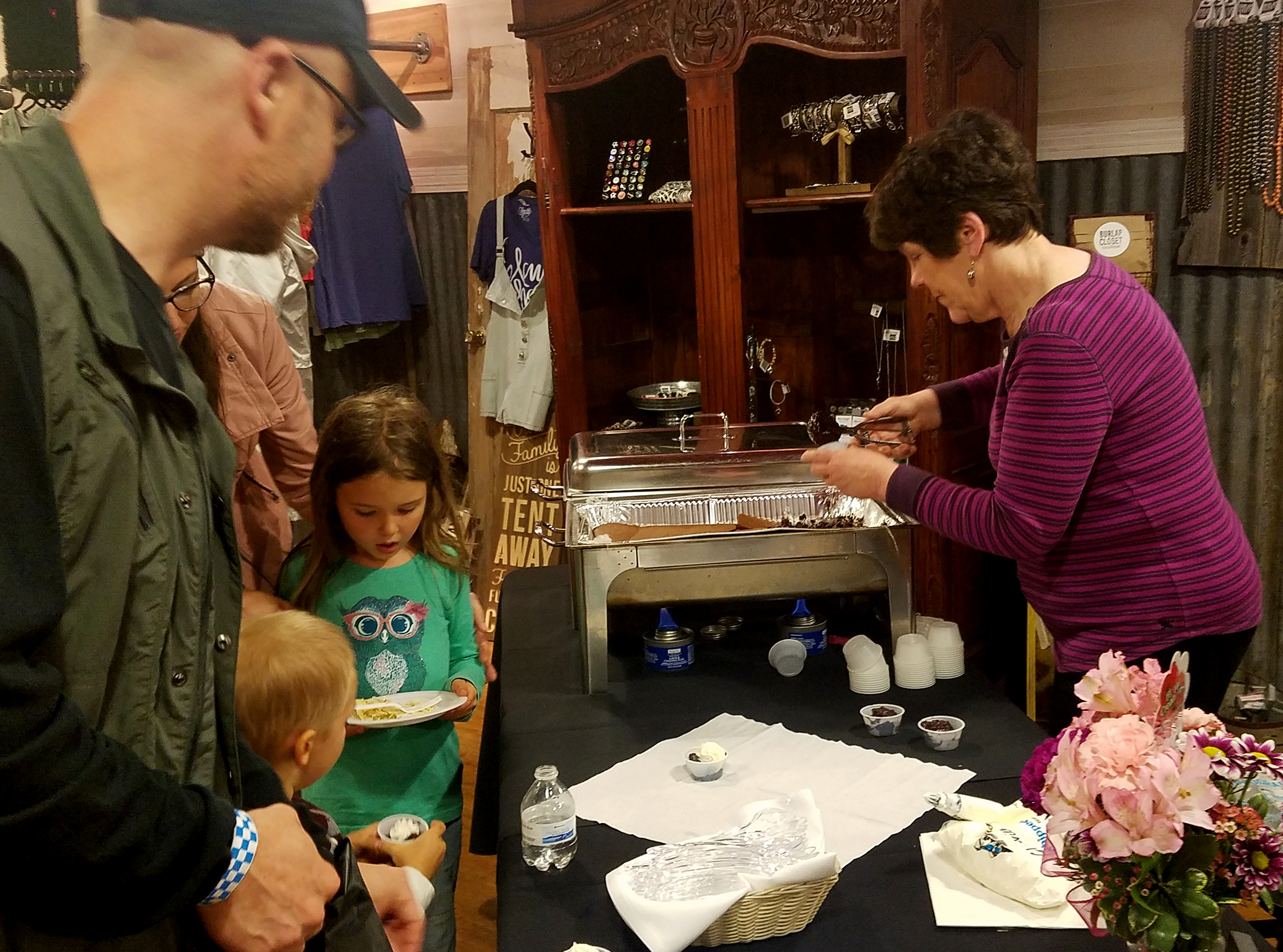 Claremore can sip, savor and shop throughout downtown Claremore later this month as part of the town's tastiest event – Sip, Savor & Shop: Taste of Claremore.
Clearly tasty, Taste of Claremore begins at 6 p.m. on April 28, offering guests a three-hour, self-guide food experience that spans the three blocks of downtown along Will Rogers Boulevard.
Tickets are $12 in advance or $15 on the day-of while children five years and younger who are eating off an adult's plate are free. Tickets are on sale now at participating stores as well as the Chamber of Commerce/Main Street offices.
"We really encourage those interested in going to get their tickets early. They are limited, and we usually sell out," said Dell Davis, President and CEO of the Claremore Area Chamber of Commerce. "More than 20 restaurants and wineries will be set up inside downtown stores for the event, so we guarantee you'll get your money's worth."
In addition to the food and shopping, the evening will feature a variety of sidewalk entertainment by talented local musicians. Performing that night are Heartland Xpress, the Smith Brothers and Ben Neikirk.
"The event has it all! Plus, it's all about Claremore – our local restaurants, our locally-owned downtown stores and our very own musicians," said Jessica Jackson, Claremore Main Street Director. "It's a treat for your stomach and your ears!"
The event also will feature a silent auction at the Main Street/Chamber office, 419 W. Will Rogers Blvd. Guests can bid on items throughout the night, but the auction will close just after 8 p.m.
Additionally, guests will get to vote on their favorite flag featuring train safety created by fourth-graders in Claremore. The flag art is made possible by Union Pacific Railroad. The winning class will receive a cash donation.
Participating eateries and wineries are: Arri'bin Hills Winery, Blue Coyote Winery, Boom-a-rang Diner, Buffalo Wild Wings, Carl's Coney Island, Charlie's Chicken, Chick-fil-A Claremore, Dirty Dozen Donuts, El Azteca, El Maguey, Front Porch Bakery, Frosted Artisan Cake Studio, J. Farley's, Main Street Tavern, McDonald's, Pecan Creek Winery, Rib Crib, She Brews Coffee House, Stable Ridge Winery, The Pink House and Walke Brothers Meats.
Participating stores are: Bike-About Bicycles, Boarding House Books, Burlap Closet, Centsible Spending, Cozy Cottage, Cranberry Merchant, Crystal Pistol Boutique/Mom & Pop Ceramic Shoppe, District on Main, The Farmhaus, The Haberdashery, Homeward Bound, LoliPop: A Sweet Boutique, Outwest Home Décor, Rhapsody Boutique & Spa, Sailor Antiques, Thrift Harbor, Waterfront Frame and Willow Tree Mall.
Sip, Savor & Shop: Taste of Claremore is hosted by Claremore Main Street and the Claremore Area Chamber of Commerce, both of which are non-profit organizations in town. Proceeds of the event go to support the organization's individual missions.
For more information, visit downtownclaremore.org or call Claremore Main Street at 918-341-5881.