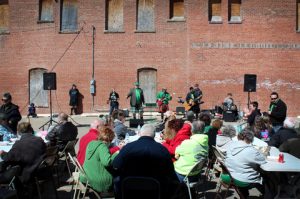 Claremore has the luck of the Irish this year as three events will give locals a chance to eat, drink and shop while celebrating Irish heritage and St. Patrick's Day.
On the evening of March 11, St. Paddy's Party attendees will enjoy great local, Irish bands and dancers, while partaking of delicious food and a fun atmosphere. Those who imbibe can purchase refreshing beer.
Admission the event, which will be on the 400 block of W. Will Rogers Boulevard, is free and open to the public as well as families. It begins at 6 p.m. Additionally, downtown stores will remain open for late-night shopping.
Meals of the Irish-staple corn beef and cabbage or sausage (known as "bangers") on a bun will be available for $5.
Picture
For entertainment, the ever-popular Timothy O'Brian's Celtic Cheer will kick off the show for the night. They are a local favorite with a joyous sound. Following the band, Goode Irish Academy of Irish Dancing, back for a third year, will showcase Irish dance for all ages.
Frank Smreker will delight the crowd following the dancers and Vintage Wild Flowers, back by popular demand, will close out the evening with sound that will make you believe you're in Ireland.
Six days later on St. Patrick's Day, Claremore folks can come out to enjoy the eighth annual Bangers and Mash Lunch, along with more live entertainment, in the Claremore Daily Progress parking lot at 315 W. Will Rogers Blvd.
The lunch is from 11 a.m. to 1 p.m. on March 17. For $6, attendees can grab a traditional Bangers and Mash meal.
Timothy O'Brian's Celtic Cheer will provide an encore performance by kicking off the lunch entertainment. Robinson Aire, another local band that stays true to their Irish roots, will follow.
T-shirts will be on sale for $15 at both events. Those who purchase a shirt or wear this year's or a previous year's shirt will receive $1 off the lunch.
At the end of the lunch, the hosts will draw the Pot-O-Gold Giveaway grand prize – $400 Green Bucks to spend at participating stores. You do not have to present to win the Pot-O-Gold.
Two smaller Green Bucks drawings will take place during the lunch as well, and winners must be present to win those prizes.
To enter into the Giveaway, visit any of the participating stores between March 1-16 and ask about the Pot-O-Gold Giveaway. No purchase necessary.
Participating stores include Homeward Bound, The Belvidere, Rhapsody Faith and Fashion, Outwest Home Décor, Boomerang, Thrift Harbor, The District on Main, Bike About Bicycles, Boarding House Books, LoliPop A Sweet Boutique, The Cozy Cottage, Willow Tree Mall, The Cranberry Merchant, The Grapevine, The Burlap Closet, Vintique Charm and Iron and Pottery Connection.
All three events are hosted by Claremore Main Street, Inc., a non-profit designed to promote economic growth, preserve and improve the historic value of downtown and champion the downtown businesses. Proceeds of the events will go to the organization to support its mission.