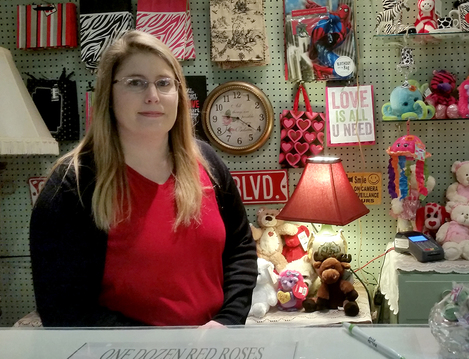 Generations of Claremore families visit Dorothy's Flowers to celebrate special occasions from proms to weddings and anniversaries to funerals – and that's just how owner Holly Thompson likes it.
Holly, who has owned the shop on 308 W. Will Rogers Blvd. since 1999, said her customers tell stories about their personal history with the flower shop, which originally began on the 500 block of Will Rogers in February of 1947.
"They will say, 'you did my grandmother's wedding flowers.' Or my 'mom's bouquet came from here,'" Holly said. "I did their prom and now they're having children and we're burying their mom and dad. It's generational, and it will be here long after I'm gone."
Holly is the store's third owner. It began with namesake Dorothy Burnett and her business Dorothy's Petals and Poodles. The store moved to its current location in 1963.
When Dorothy retired in 1975, one of her employees, Gertrude Riddle, purchased the business and ran it until she sold it to Holly more than two decades later. Holly took over the business because her family, she said.
"I bought the shop mostly because I didn't want my girls to go to daycare," she said. "I raised both my girls here. It was just a fluke. I didn't plan on it."
Holly has a degree in equine husbandry but found herself helping out a florist friend during major holidays after graduation.
"And here I am 20 some years later," Holly laughed.
While she started for her girls, she continues for her customers.
"Helping people. Seeing people. Meeting people. No matter what they come through the door for, it's emotional," Holly said. "They're not my customers. They're friends; they're family … that's the personal service you're lacking at big box stores."
The flower shop also has jewelry, antiques and little gifts to purchase in addition to custom and ready-made flower arrangements. Custom orders take anywhere between a few hours to a couple of days to complete, depending on the uniqueness of the request. They also deliver.
"People really need to think about, if they want good customer service, they need to shop local," she said.