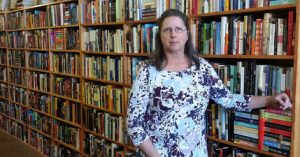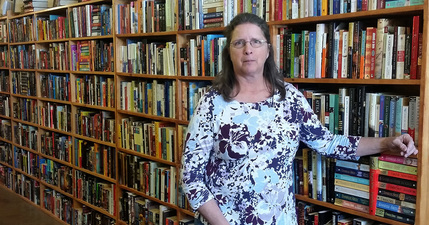 When Janice Whittaker and her husband, Tracy, bought the building at 300 W. Will Rogers Blvd. nine years ago, Janice began her first venture as a business owner.
While they remodeled half of the bottom floor for their bicycle store and repair shop, Bike-About Bicycles, the top floor became a local bookstore, Boarding House Books.
"During that period of time, an opportunity availed itself to me to get the remaining inventory of a closed out bookstore," Janice said. "There wasn't a local bookstore for Claremore and as much as I bicycle, I think my two top passions that fight each other for dominance are biking and reading."
"I'd always used pre-owned bookstores, and here was my opportunity to own one," she continued.
The former boarding house's separate rooms provided a fun space to compartmentalize various genres of books. Perusing through the rooms, one can see the various personalities of the rooms, including an old, claw-foot bathtub full of novels in one or Room 13 full of horror and mystery novels.
Janice expanded the store to include the downstairs area in 2013.
Boarding House Books features about 36,000 books, both new and preowned, allowing book lovers to spend hours browsing. All the books are cataloged and searchable online, so those who prefer to get in and out quickly can do so as well. The bookstore also has a buy-back program and does special orders.
Among those books are 95 titles from nearly 50 local authors, Janice said. Patrons can see three shelves of Oklahoma authors displayed at the front of the store.
"I wanted to put them in a feature space to make it pop so people could find local talent," Janice said. "These are our people. We have great talent."
A couple times a year, Janice invites the local authors in for book signings at her store.
One of the most interesting features to the bookstore is the staircase, which features stairs all painted to depict a different novel's spine or aspects of a novel.
"I finally stripped the steps and invited artists of all capabilities," Janice said. "We had everyone from high schoolers to people my age doing the steps. So it really became quite interesting, interpretative art, and I love it."
Boarding House Books also hosts a monthly book club, open to men and women alike. They meet in the store on the second Thursday of the month from 7-9 p.m., and each read the same book, chosen by group consensus, to discuss at the next meeting. All are welcome to join.