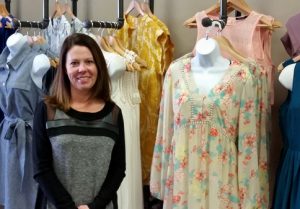 Years ago, Cari Bohannan and her business partner, Susan Todd, open a furniture painting booth in a downtown Claremore antique store.
That business transformed to the posh boutique at 407 W. Will Rogers Blvd., The District on Main.
"The store was available, and it kind of took off from there," she said. "We went into full retail and it just sort of evolved from there. We try to get exclusive brands that are only available here in Claremore."
Some of the exclusive brands they carry are Rustic Cuff, Brighton, Kendra Scott, Frye Boots, Lenny and Eva, Tribal and Lilly Pulitzer.
When she opened the store in 2012, then named Nesting Necessities, downtown Claremore had several empty storefronts, and Cari wanted to change that.
"People that are from here didn't come downtown," she said. "I felt like there needed to be life brought back to downtown, make it part of a shopping experience, a destination … And now it's where a lot of the locals come to do their shopping and buy all their gifts."
The store's name changed on its first birthday because the store had morphed into a boutique and the name no longer matched the business, Cari said. She is now the sole owner of the boutique.
Cari said her favorite part about owning a store is the customers she gets.
"The people interaction, getting to meet new people, helping them find the perfect gift or the perfect outfit," she added.
There's another change on the horizon for The District on Main. While it will remain its high-end boutique qualities, Cari will be moving her store across the street to 406 W. Will Rogers Blvd.
This month, she bought the building where Nostaglia Nook was located and plans to remodel it to restore it to a more original state – preserving the ghost wall on the west side, saving the tin ceiling and conserving other features of the 107-year-old building.
The goal for the entire project is to be done with the rehab and move The District on Main by October.
"I want to bring it back to its glory. Give it new life," she said.