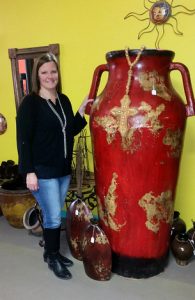 A few months ago, Jennifer Coker was a partially retired orthopedic nurse, but opportunity after opportunity presented itself to her, and she's now the owner of one of the newest downtown Claremore retail stores.
Jennifer opened Iron & Pottery Connection, 321 W. Will Rogers Blvd., on Feb. 11, a mere two-and-a-half weeks after signing the lease on the space.
"I call it a God moment. My husband and I just happened to turn down the street and drive down there and saw that it was empty," she said. "We weren't really planning on doing it this early, but when the door is open and you're being kicked through, you take it."
The store features Mexican imports, including a variety of chimeneas, home décor, wall art and outdoor garden pieces. Prices range from $5 to several hundred for the larger items.
Every piece is handpicked from Mexico by Jennifer and her husband, Colbie. They make the trek south as often as needed to when merchandise gets low and cash allows it.
​"When we start craving the Mexican food," she joked.
The merchandise is not cookie-cutter, mass produced items, so the chances of them finding the same thing twice is rare for the couple, and in turn, for customers.
"We never keep the same thing. What might be here today may never be back," Colbie said. "It usually takes 3-4 days … sometimes it depends on how deep you have to go, too."
The open building wasn't the first opportunity afforded to Colbie and Jennifer. Colbie's parents decided to retire in September from a business selling similar items and offered to sell Jennifer the inventory.
She opened a tent on Highway 20 the following month. While the store had frequent visitors, it was a nightmare to set up and break down the roadside tent every day.
"We had a lot of traffic," Jennifer said. "It had its pros and cons being there. It was pretty busy the times we were there when the weather would allow us."
The November weather, however, didn't offer the business much time to be open. After fighting the weather and wind for two months, Jennifer had had enough.
"So I gave one to Mother Nature and decided to end it all," she said. "When this space opened, it was like 'OK, this is it. We've got to take it.'"
Now no longer fighting the forces of an unforgiving Mother Nature, the store is open 10 a.m.-5:30 p.m. Monday through Friday and 10 a.m.-4 p.m. Saturday.