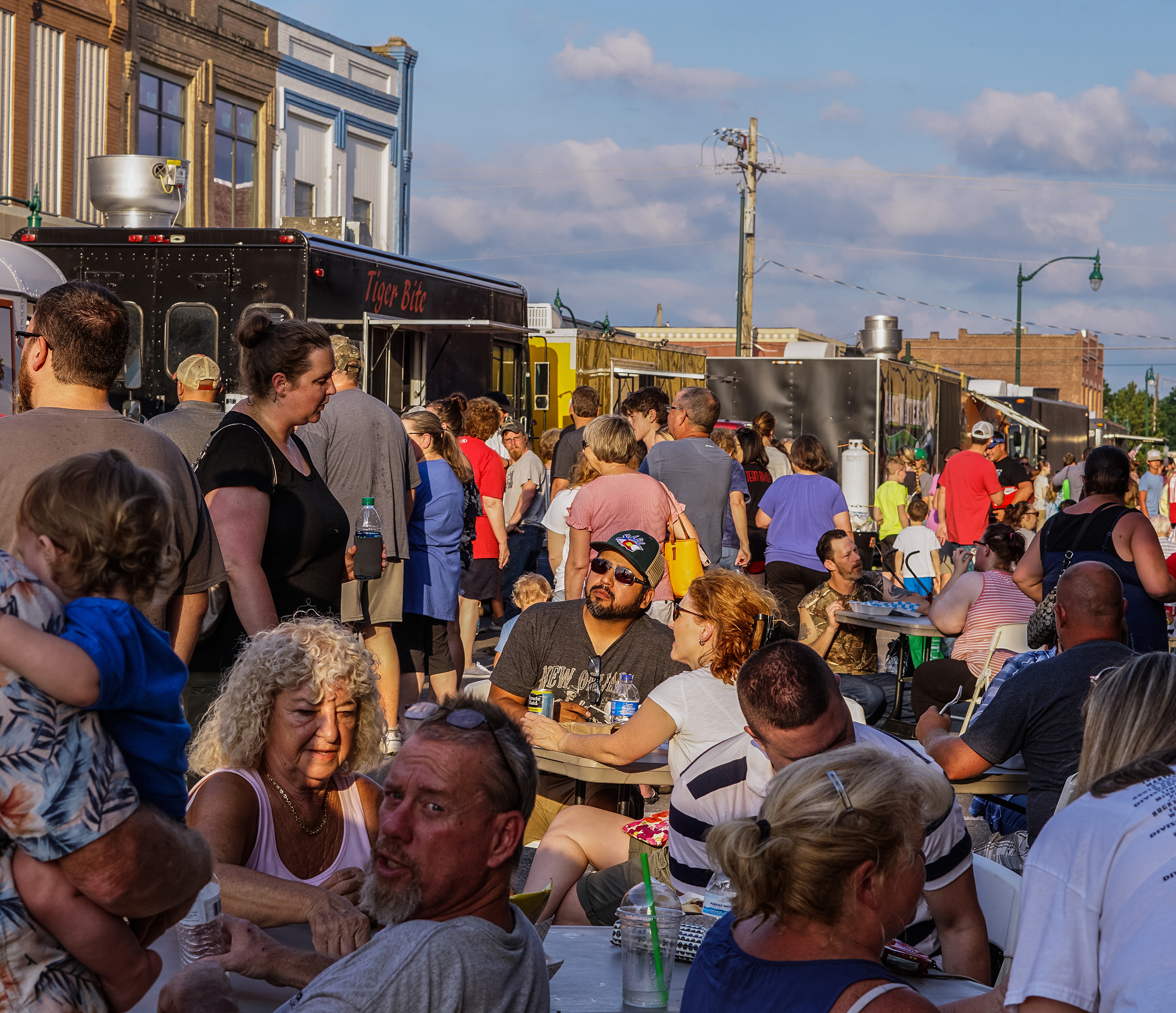 It's a bird! It's a plane! It's a food truck!
The Food Truck Thursday season is starting with a bang, a pow and a wham with the Downtown CASA Superhero Smash from 6-9 p.m. May 31 in downtown Claremore.
Much like last year, the event will feature more than 20 food trucks, late night shopping downtown, a free Kids Zone by Cedar Point Church and music by Jerry Pringle. Plus, superheroes … and villains.
Attendees are encouraged to dress as their favorite superhero. Several stores are offering discounts to those dressed up.
For the May event, Food Truck Thursday has partnered with CASA, which stands for Court Appointed Special Advocates. CASA supports and promotes court-appointed volunteer advocacy so every abused or neglected child can be safe, have a permanent home and the opportunity to thrive.
"Over the years, we've tried to partner with a community organization for at least one of the events," said Jessica Jackson, director of Claremore Main Street, an event co-host. "CASA's mission to support children is really important in our community, so we're glad to have them be a part of this with us for May."
CASA also will be hosting a dunk tank where children and adults can try their luck at dunking their most hated villains. Proceeds to the tank will go to support CASA and its mission. CASA also will be introducing a special guest during a presentation around 7 p.m. at the stage.
"CASA is proud of our association the downtown Food Truck Thursday series," said Angela Henderson, executive director of Child Advocates of Northeast Oklahoma. "Claremore's business owners are very community-oriented, and they care about kids. We hope all superheroes, large and small, will come to Food Truck Thursday decked out in their costumes."
In addition, sponsor Volunteers for Youth will bring their Smoothie Bike, offering guests a chance to ride a stationary bike that makes smoothies, to promote their healthy living initiatives, and Studio B Artworks will be doing face painting.
The Kids Zone by Cedar Point Church is completely free to attendees, but parents are asked to watch their children while they enjoy the games and fun activities. The Kids Zone will have superhero mask decorating, an obstacle course and a free snack.
Most shops will remain open throughout the event while other vendors will be in the streets to add to the shopping variety. The Main Street Tavern will be selling low-point beer.
"We're looking forward to this new season for Food Truck Thursday because every year has just gotten bigger and better," said Sheila Giannelli, president of the Downtown Claremore Merchant Association, an event co-host. "This has allowed us to add more features each month and provide a fun, community-oriented event series."
Food trucks include Alpha Grill, The Bacon Truck, Blue Boys Soul Food, Breenie'Z Soft Pretzels, Dave's Smoke Shack, Dorothy's Wiches, Frigid Whips & More, Hoops Philly Truck, Hot Mess BBQ, Jack's Ice Cream, Kona Ice, La Hermosa Taco Truck, Maw & Paw Kettle Corn, Moose Trax, My Baby Can Cook, Not Your Grandma's Cupcakes, Ropin Flamingo Italian Ice, Steak & Bake, Taqueria El Jarocho and Wild Al's.
Food Truck Thursday is a monthly, seasonal event in downtown Claremore hosted by the Downtown Claremore Merchant Association and Claremore Main Street. Both organizations strive to improve downtown Claremore and reignite the area as the social core of the community.
Upcoming dates for Food Truck Thursday are June 28, July 26, August 30, September 27 and October 25. Each month will feature a different theme.
Food Truck Thursday was named the 2018 Best Premier Special Event Over 1,000 Attendees by the Oklahoma Main Street Center.
Food Truck Thursday is made possible thanks to its community support and sponsors, including Season Signature Sponsor Midtown Rentals and numerous major and supporting sponsors.
Nonfood vendors who would like to set up a booth should email Jennifer Kincade at fttnonfoodvendors@yahoo.com. Space for food trucks is completely booked for the season.
Get all the latest about the Food Truck Thursday season by liking and following the Food Truck Thursday Facebook page!