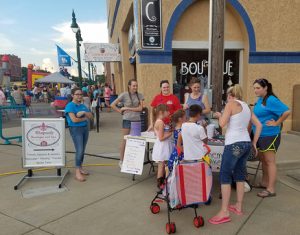 Calling all detectives! We need your help to uncover a mystery at Food Truck Thursday: Clue in Downtown Claremore on Aug, 25.
The monthly event, set in downtown Claremore from 6-9 p.m., features a fun game of whodunit as attendees work to solve the "Case of the Missing Cupcakes," a magic show by Spotlight Magic, a free Kids Zone by First United Methodist Church, about 10 food trucks and late-night shopping with a gift basket giveaway.
"Food Truck Thursday is such a fun monthly event in Claremore," said Jessica Jackson, Claremore Main Street Director. "We love hosting it and seeing everyone come out and enjoy downtown Claremore."
The "Case of the Missing Cupcake" will begin at the Claremore Main Street office, 419 W. Will Rogers Blvd. It is completely free to play and each step of the way detectives will earn tickets for a gift basket valued at more than $300.
"We are trying to bring something new to our event," said Carol Thibodeau, the event committee chairwoman and owner of Rhapsody Boutique & Spa, 106 S. Cherokee Ave. "Everyone loves the game of Clue and a good mystery to solve."
Tickets can also be obtained by dressing as your favorite character from the game Clue, and with every $10 spent at a participating store. The gift basket drawing will be at 8:30 p.m. at the stage in the 500 block of West Will Rogers Boulevard, and you must be present to win.
Spotlight Magic will offer a free magic show from 6:30-7 p.m. at the stage.
The Kids Zone is completely free to attendees, but parents are asked to watch their children while they enjoy the bounce houses, a fingerprinting station, face painting, a "mug shot" station and giant tic-tac-toe.
"The Kids Zone is wildly popular for families," Jackson said. "First United Methodist Church does a fantastic job incorporating the event's theme to make the Kids Zone a little different each month."
Boarding House Books, 300 W. Will Rogers Blvd., will feature a book signing by local authors Daniel Welch, Derek Bullard, Philip D. Smith, Bill York and Robert Scott. LoliPop: A Sweet Boutique will host a children's book signing with local author Crystal Campbell.
Nine food trucks are scheduled to attend, giving guests a variety of cuisine and desserts. Food trucks include Meltdown Gourmet Grilled Cheese, Dorothy's Wiches, MooChewSooey BBQ, Taqueria El Jarocho, Papos Latin/American Cafe, Curbside Comfort, BackWatters BBQ Chuckwagon, Kona Ice and Jen's Java.
There are three other Food Truck Thursday's remaining this season. Rogers County residents can enjoy I Art Claremore – Downtown Chalk Walk on Sept. 29 and Downtown Zombie Infestation on Oct. 27.
The monthly event is hosted by the Downtown Merchants Group and Claremore Main Street, a nonprofit organization dedicated to the revitalization of the downtown district and reigniting the area as the social core of our community.