BY CHELSEA WEEKS
News Editor Claremore Daily Progress
Oct 12, 2021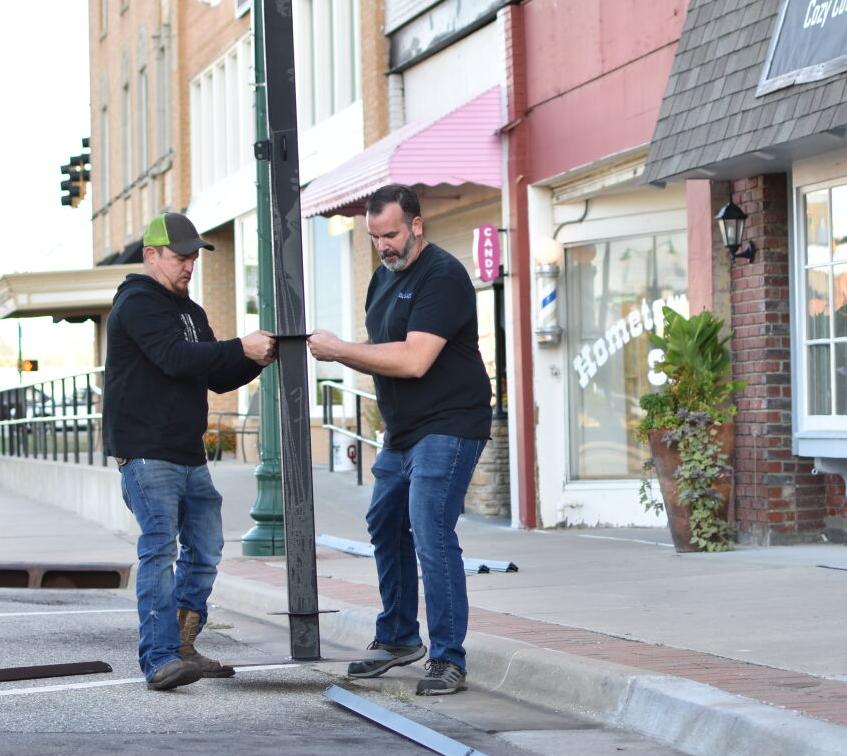 Two parklets have been installed in downtown Claremore in front of Taps on the Tracks and Crooked Roots.
"These parklets allow the public to interact with the public space in a different way than just a regular parking space," Claremore City Planner Kyle Clifton said. "I think it will benefit the downtown merchants as a whole because it keeps people downtown. It gives people a place to sit, it gives people a place to gather."
Claremore Main Street board unanimously approved the construction of the parklets during the September board meeting.
Andrew Jones, Co-Owner of Taps on the Tracks, grew up in Claremore and always found there was a faction that looks favorable on progress and a faction that doesn't want anything to change.
"I feel like this is something that is easily reversible if it doesn't work or isn't popular," he said. "I, for one, am glad to see Claremore trying new things."
Jones said Main Street approached him to see if they'd be willing to give up two parking spots for the parklets.
"After looking at the designs, I said yes," he said. "I think it'll be awesome."
After living in Seattle, Boulder and Los Angeles, Jones said these are common in those markets and will create a more pedestrian vibe in Claremore that will add to the quaintness of the town.
That sentiment was echoed by co-owner of Crooked Roots, Bailey Robinson.
"I'm so excited," she said. "It will bring so much more to downtown."
Robinson said she volunteered her two parking spots up for the parklet.
"It'll give the vibe that downtown is a place to come, stay and hang out," she said.
CMS Executive Director Jacob Garrison said having the parkets outside Taps on the Tracks and Crooked Roots will provide two different sets of data since they are two different types of business: retail and food and beverage.
"For us, we didn't want to put them in the front of two similar businesses," he said. "We wanted to be able to have that data and feedback on two different areas."
The discussion of creating parklets began in January.
"We're very excited," Garrison said. "For us, it's been a long time coming."
Clifton said the parklet is a temporary solution to the comprehensive plan, which has a vision to create an expanded, urban designed, complex zone, like sidewalk cafes.
"The problem is, with our current configuration we don't have enough width on the actual sidewalk itself," he said.
Due to the lack of room, the parklet was brought up as an alternative to provide that alternative seating sought after in the comprehensive plan.
From there, tests were conducted during the St. Paddy's Day Party event and the Taste of Claremore event, and a think tank was hosted by the Claremore Collective.
Garrison said they are trying to find what will work for Claremore.
Originally, the parklets were designed to take three parking spots in front of Back in the Day Antiques and three in front of the Homeward Bound building. After receiving feedback, the project evolved to take two parking spots in front on Crooked Roots and two spots in front of Taps on the Tracks, Clifton said.
"We tried to take into account all the feedback we received form the merchants," he said. "They were concerned about the number of parking spaces, they were concerned about the location itself… So we tried to take all that into account."
Clifton and Garrison conducted a week-long parking study in September. Data was collected every two hours from 9:30 a.m. to 5:30 p.m. on Tuesday, Thursday and Saturday.
"We had 15 different data points that we could collect and see what the usage was before the parklets and utilize the data," Garrison said.
This was the second parking study conducted – the first one was done in October of 2018 – and the results were the same, Clifton said.
"The findings, in summary – contrary to popular belief – just like what we found in the first parking study, we don't have a parking problem in downtown," he said.
Garrison said the average parking utilization was at 49 percent.
Garrison said the goal of the study was to see what areas were being used, what areas were underutilized and what areas were under-marked as public parking.
With the data, Garrison said they will be able to educate the public on where public parking is located down town.
On top of parking concerns, some merchants were also concerned about a lack of communication with the project and the maintenance of the parklets.
Doe's Eat Place Owner Betty Watowich said Main Street and the city are looking for ways to revitalize downtown and this is another idea.
Watowich said she has elderly patrons who struggle to walk and don't come in because they already can't find a parking spot.
"I don't know how bad it'll effect us," she said. "I think it's more of how other people will view it. I don't care in the least if we do it. If it helps – hurray."
Watowich said she was told in August that the parklets were only going to be in the 300 block.
"To me, it suddenly changed," she said.
Watowich said they are going to try and embrace it.
"We'll see what happens," she said. "I'm for whatever helps. I only wish we had been talked to about it earlier."