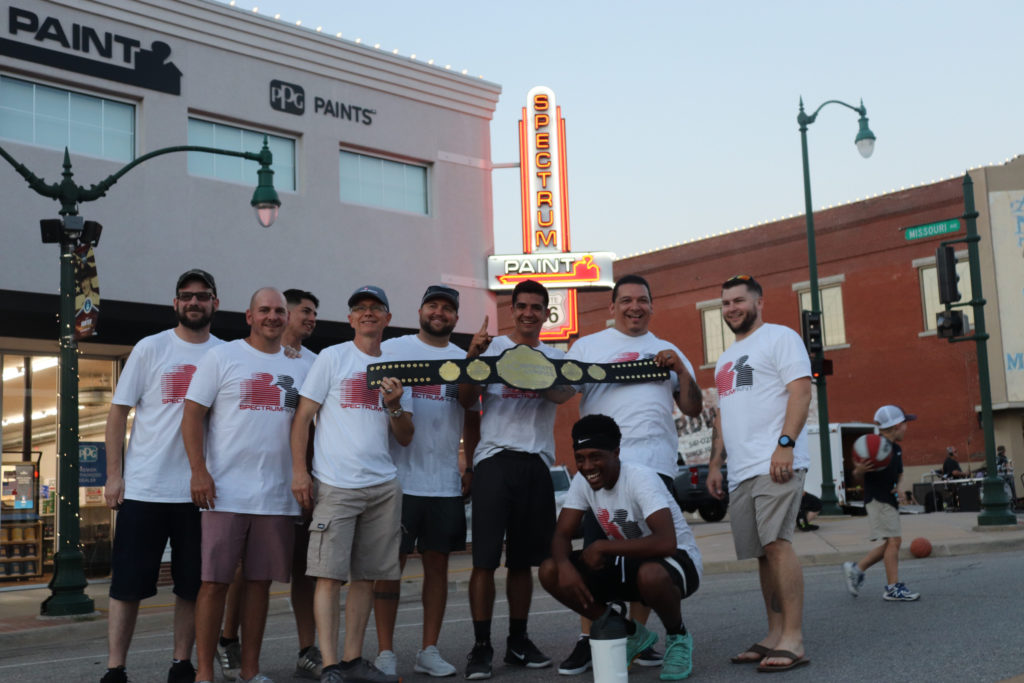 Photo by RSU Honors Student, Emma Spear
Story by Claremore Progress News Editor, Chelsea Weeks
Downtown Claremore transformed from the average Main Street into an Olympic battleground as 16 local corporations fought for the title of Corporate Olympic Champion.
After a day of playing basketball, throwing axes and tossing bean bags, Spectrum Paint Co. walked away with the gold belt and title at the Claremore Main Street 2nd Corporate Olympic Games.
"It's always exciting – doesn't matter what event it is – to see so many people downtown," CMS Executive Director Jacob Garrison said.
Spectrum Paint Co. secured first place with 13 points. Banc First followed with 10 points and last year's champion, Pelco, fell to third place with 6 points.
Teams completed in 3-on-3 basketball, Angry Axe throwing, corn hole, football target throwing and Hillcat Hacker golf.
Garrison said the original event was scheduled for May, but was postponed because of the weather.
"We had to make a few adjustments on the fly," he said.
Garrison said overall the turnout – and weather – was great.
"It's really exciting and promising that we're seeing a great turnout downtown," he said.
Garrison said when they began planning for this event in January, they weren't sure what to expect due to the pandemic. Garrison said he'd like to see the event become a staple event in the community and grow to a two-night event.
"We've seen it grow from 10 teams to 16," he said. "People are getting more familiar with the event and what the event — and more importantly how much fun the event is. We want to see that continue to grow as the community gets more excited."
The teams that participated included Spectrum Paint Co., BancFirst, Pelco Structural, RCB Bank, Rogers State University, City of Claremore, Chick-fil-A, Baker Hughes, Cedar Point, Clear Title, Claremore Christian Schools, Destiny Life Church, Rhapsody Boutique Salon & Spa, Solid Rock Realtors and Tulsa Federal Credit Union.
"This is a really great event for those community employees that maybe don't live here, that head home at 5 o'clock, this gives them an opportunity to stay and, not only see our event, but go into our shops and get acquainted with what we have to offer," Garrison said.
Not only could attendees watch the Corporate Olympic Games and shop, but they could also eat at one of 10 food trucks, check out items at the numerous vendors and listen to music performed by the band The Aviators.